10 Full Free and Easy WordPress Themes [SEO Friendly]
WordPress has become one of the top choices for content management systems among the developers and web site owner's. If you're using WordPress, odds are you have started exploring the wonders that are WordPress themes. The right WordPress theme can make your blog pop, and while that won't make or break your blog it might give you the inspiration to continue blogging and making a great site. Sometimes it's not easy to find the perfect WordPress theme. There are a lot of WordPress themes out there, but the perfect theme can at times seem like a needle in a haystack. To help you in your searching, we've put together the following guide to finding WordPress themes. If we're missing a solid method, feel free to add your own tips in the comments.
There are all kinds of themes out there, but some of my favorites are the ones that take a minimalistic approach so the content can do the talking. If you've been on the lookout for some nice minimal WordPress themes, then you're in luck. Here are 10 free ones that you should find useful.
Un.complicated implements the Golden Grid with a clean, open, straightforward (uncomplicated) presentation. The theme uses categories to show a variety of topics outside the actual loop. You can have a category specifically for images, a category designated solely for music, and also display the traditional post loop. It also implements two different custom post types, one for a gallery, and the other for a portfolio.
Download Here: Un.Complicated
It has been too long since siiimple has offered a wordpress theme so here is another one, The Standard. As you can see, it is a slight departure from our previous themes, since it incorporates a fancy jquery slider – but it keeps to a grid layout, once again built on Vladimir Carrer's "Golden Grid". The administration area is rather extensive and allows for a tremendous amount of customization. Inside the download you can find the readme.html file that explains the themes usage.
Vostok is for those who don't want attention to be distracted from content. Colors and typography have been carefully chosen to achieve maximum legibility with minimum eye fatigue. Also, code has been written with extreme care for web standards and accessibility.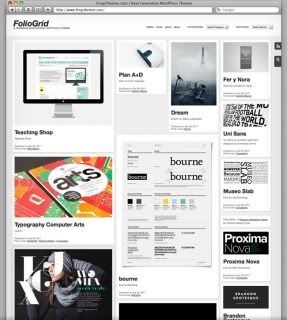 Designed to be a fluid WordPress Portfolio Theme, FolioGrid has shown an impressive flexibility to be used for much more. Video embedding, fluid layouts and multiple colour schemes make FolioGrid Pro great.
"Clean Home" is a true beauty. Being a writer I was looking for a theme with a clear emphasis on text and typography. You can download it for free now right here.
This is a simple wordpress theme. Miniml press is the second theme released by siiimple.com, the first being the daily grind theme, which has received a warm reception.
You can download Miniml Press Here: Download miniml press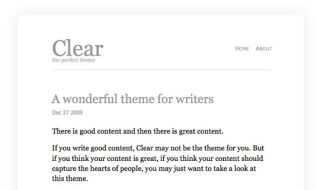 If you write good content, Clear may not be the theme for you. But, if you think your content is great, if you think your content should capture the hearts of people, you may just want to take a look at this theme.Clear is the perfect theme for great authors. It is clean, clear and beautiful. It is minimalistic one-cloumn theme with the widgets all arranged at the bottom. Clear was designed to make your content stand out and make everything else get out of the way. Check it out and you will fall in love with it.
Download Theme Here: Clear
The "Seven Five" theme which I used to use on my personal website theSevenFive.com has become extremely popular since I first released it. Seven Five is a free social media theme powered entirely by custom widgets. Within the latest version, you can now style the theme background, font colors, border colors and link colors right through the brand new theme options page. You can also arrange all the home page sections in whatever order you like using widgets.
Download Here: Download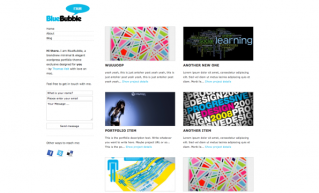 BlueBubble is a Free, Clean, Simple Premium Portfolio WordPress Theme for Designers, Photographer or any other creative minds!

It's designed for easy showcasing your work and it comes with some very cool features. This theme is released under GPLv3.
Download Here: Blue Bubble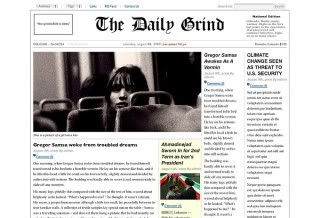 The Daily Grind owes a debt of gratitude to Starkers, a "bare-bones WordPress theme created to act as a starting point for the theme designer."
Download Here: Download the daily grind wordpress theme
Related Posts: